Today my passport came back in the mail.
It had a cool sticker in it: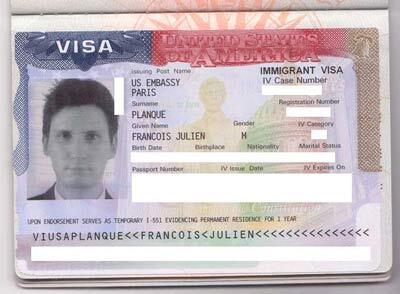 That's what happens when you play the green card lottery. Beware: it doesn't only happen to others!! ;)
You play… you wait… you forget about it… you're asked for a lot for paperwork… you forget about it again… and the next thing you know, you end up with a visa inviting you to rave up your whole life! :D
---
Comments from long ago:
Comment from: Danny
What does that mean? Are you now allowed to come and go as you please? Or does it mean you can work in the USA?
2007-10-12 18-35
Comment from: François Planque
It means both :) I can live in the US, work in the US & come & go as I please ;) Absolutely groovy!
2007-10-12 18-44
Comment from: sev
Yeahhh, congratulations !!!! moi aussi je vais jouer the game !
2007-10-12 18-57
Comment from: Mox Folder
Alors François Julien tu vas ou ? SF j'imagine ? ;o)

bien ça, très bien, félécitations !
2007-10-14 19-12
Comment from: Ravin
i want a visa of UsA
2007-10-21 11-06
Comment from: adji ndiaye
i want a American visa my son and me.I'm married and i have one child. i'm a informatian I practice the secretary of bureautic. I know this very good. but it is very difficult to Senegal and i am a phisycal handicape
2009-06-06 15-46
Comment from: shahid iqbal
hey m 55 year old and few days ago i had a immigrant visa interview but refused…

all things arr clear but their are some problem.i went usa in 2003 on visit visa bout i live their above this period and usa government ban me for 10 years which will complete in 2013 ..now my all case is fine and good any one tell me is there any option or any remidy/..thanks
2010-04-06 11-44
Comment from: Hooman
congratulations! i have two questions.i have interview 3 week later in vienna. i am applicant for family based green card petition.so question 1: can i return to my home country after visa issuance?? question 2: will they put visa stamp on my passport or it will be given in a sealed package??
2010-06-27 20-27
Comment from: radha khatri
i want visa of USA.
2010-10-26 10-02
Comment from: Masoud
I have applied this year. I is my wish and I almost always think about it. I feel i will be selected. can you please tell me more about paperworks? I am sure i will be selected and I want to be ready for paperwork. please reply me
2010-12-05 09-45
Comment from: Ahmad Gamal
Sir, What's the validity of the Green Card ?? is it 1 year only or 10 years ?? Thx
2011-05-31 15-20
Comment from: Cho cho
I am a sister of us marine sergeant. He is my brother, not cousin. He was seriously wounded last year in Afghanistan. It made him can not exercise harder. I went to USA for bed side help one month by non immigrant visa. Now I want to apply immigrant visa right away. Is it possible? I already applied petition for alien but it takes time 10 years. I can't wait. Amy idea?
2011-11-11 09-44